Nobody's Business Toilet Spritzer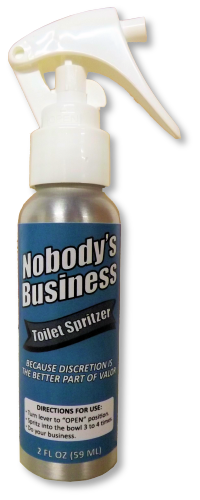 Unlike other toilet spritzers, Nobody's Business does not hide the odor under the water. It locks the odor in the water. The odor simply won't escape!
Prevent embarrassing odors with Nobody's Business!
Made from ultra-pure water, essential oils, and natural fragrances.
Safe for daily use. Safe for the environment, safe for toilet systems.
Convenient 2 fl oz size with a locking sprayer.
Easy, discrete, and TSA approved.
Directions For Use:
Simply spray 2-4 times directly on the toilet bowl water.
Do your business and flush!